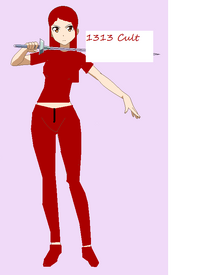 1313 cult is a hacker on the MovieStarPlanet servers US and UK. She was discovered by Your Living Nightmare.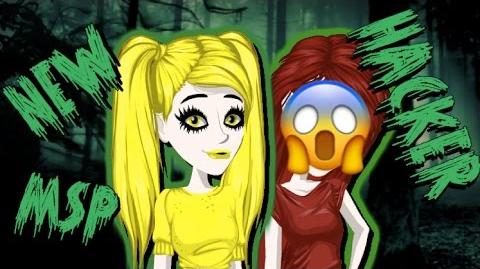 How she was found
Your Living Nightmare was doing a hacker hunter episode when this hacker appeared, she began to mess with it as it told her some strange things, and she was logged off.
So far all we know that she does is log you off and change your status.Jestique's hacker hunting channel is: Hunting With Nightmare. Subscribe!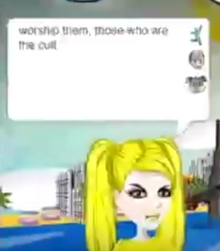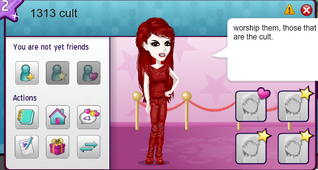 1313 cult's status message:
"worship them, those who are the cult"
Searching her up currently, she still has her user.
All evidence goes to Jestique (Your Living Nightmare)
Appearance
On USA she appears with white skin, wearing all red. She has long red hair, red eyes, red lips, red eyebrows, a red t-shirt, red jeans, and red boots.
Trivia
So far she is only known to have hacked Your Living Nightmare aka, Jes, Jesi, or her real name, Jestique.
She has also hacked one of Yuka Mochida's hacker hunter accounts.
She has also hacked Elsa Icee.
She will send very satanic messages before you are hacked, such as "believers will die" ect.
Ad blocker interference detected!
Wikia is a free-to-use site that makes money from advertising. We have a modified experience for viewers using ad blockers

Wikia is not accessible if you've made further modifications. Remove the custom ad blocker rule(s) and the page will load as expected.