b7ty8 is a hacker on MSP. (USA, AU)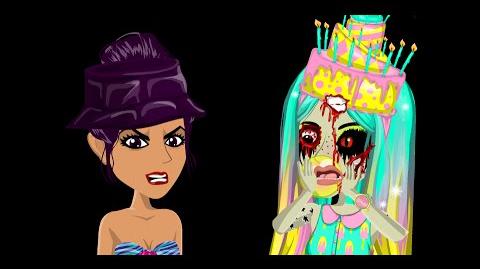 About b7ty8
b7ty8 has been discovered by Your Living Nightmare. Very little is known about this hacker. She created two hacker hunter users and found this hacker and joked around with the hacker until they actually ended up getting hacked.
What happens when you get hacked?
b7ty8 leaves this message on victim's statuses:
"Packed, don't mess with me (d) "
She changed the message to
"You were never safe (d)" -b7ty8
If you search her up, she will not come up, perhaps showing that she got locked out, or deleted her user.
On Australian MSP A user called Singer Blinger was hacked, b7ty8 changed her skin to a white colour and will change your status to "I'm a beech (d) Don't mess with me". b7ty8 seems to appear in Sapphire cafe, where the founder thought that hackers are most likely to be found in least populated chat room cafes .
b7ty8 has a second account called b6ty7 (Which is now banned or deleted) and hacked another account, which was Your Living Nightmare's 'Banana' hacker hunter acc, but managed to change the password.
Appearance
On USA, she wears all white. She has a white ponytail, a white shirt, white leggings and white high heels. She has white lips, black eyebrows and red eyes. On AUS msp, she has all of these features, but instead of red eyes, white eyes.
Trivia
Her only 5 victims are: AcornBrownHackerHunter12, Singer Blinger, MucusGreenHackerHunter12, BananaHackerHunter12 and POTATOHACKERHUNTER666.
It is unknown if she has hacked anyone else.
She may have gotten banned on USA.
Two more accounts show up on USA (three, including a joke account) if you search her up. It is unknown if they are actually her or not.
On Australian, two accounts come up, one being b7ty8, and another being b7ty87, and instead of female, b7ty87 is male. It is unknown if this account is on of her accounts. It probably isn't.
It seems like b7ty8 only hacks users who believe that she is a fake.
b7ty8 hacked AcornBrownHackerHunter12 and MucusGreenHackerHunter12 also known as "Your Living Nightmare" "Infant Nightmare" or "Toddler Nightmare." The Victim's real name was Jestique.

On BananaHackerhunter22, Her status was You were never safe (d) -b7ty8
Ad blocker interference detected!
Wikia is a free-to-use site that makes money from advertising. We have a modified experience for viewers using ad blockers

Wikia is not accessible if you've made further modifications. Remove the custom ad blocker rule(s) and the page will load as expected.