Blood Stalker is a hacker on MovieStarPlanet (USA). Don't bother searching her, as her name wont come up, and if you see her profile you cannot message her. She has to message you, or, In MY CASE, I messaged her when she didnt have a profile layout like "THE GRIM R"
Here is a pic, and I quote from Gator Gerhardt this: "She looks fab!"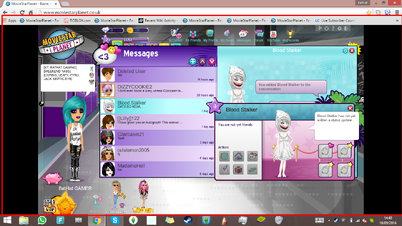 So i dont think she has started hacking yet. The red rim around it is because i was recording, and if it's blurry IM SORRY!
I dont know what else there is, other than to beware, i think its a deleted user glitch, but i noticed the same with grim's profile and i thought if grim can come online, blood stalker can
Ad blocker interference detected!
Wikia is a free-to-use site that makes money from advertising. We have a modified experience for viewers using ad blockers

Wikia is not accessible if you've made further modifications. Remove the custom ad blocker rule(s) and the page will load as expected.