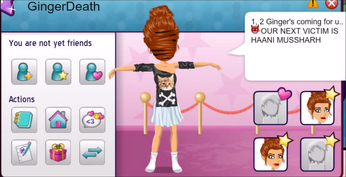 GingerDeath was a hacker on MovieStarPlanet (UK).
What does she do to your account?
She changes your clothes to the ugliest you have and deletes your best friends and boyfriend or girlfriend. She also adds 2 other gingerdeath accounts as your friend. She can also stalk you.
She also changes your password.
Stub Article!
This article is a stub. You can help by expanding it.
Ad blocker interference detected!
Wikia is a free-to-use site that makes money from advertising. We have a modified experience for viewers using ad blockers

Wikia is not accessible if you've made further modifications. Remove the custom ad blocker rule(s) and the page will load as expected.