Haloveta is a seemingly new hacker on UK/USA/POLISH MSP, whos only motive for hacking seems to be revenge. However, she also may do it for pleasure. Despite she has only one known victim, there are many accounts made, saying that haloveta deletes accounts, that shes coming for uk msp, etc. However, the, "haloveta deletes accounts" users may be referring to Halovetas threat to delete Candireds account next time she hacks her. She also may be on Polish MSP, due to the funybuny hype, and her most recent status.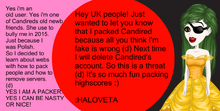 Halovetas appearence
Haloveta has pale white skin, mossy green hair, default brown eyes, and default plump lips. Her outfit consists of the Beauty And The Beast live action Belle dress, and shiny, pointed green high heels from the Bieber Fever theme. Her Belle dress is a very important feature of her outfit, as there will be many fakes to come in the future, that wont have the dress, since its a limited time gift.
Halovetas other "threats"
Haloveta made another artbook, saying shes already deleted 26 accounts on UK and is planning to delete more highscore accounts. She also claims at 11:00 pm at night, on UK and USA, she will bring back Samantha for one hour.
Candired
Haloveta, as shown in the screenshot of her most recent artbook above, hacked Candired, a level 71 highscorer on UK. Haloveta claims her motives behind hacking Candired is that in 2015, she was a nooby friend of Candired, and Candired would bully her due to being polish. Haloveta is extremely angry at Candired for doing this, and decided to hack her. Haloveta got onto Candireds account and changed her status & facial features, giving her the new braces lips. However, by the time this article was written, Candired already got back on and changed her outfit and face.