Little Buneary is a fairly new hacker on the UK server, she started a few months ago.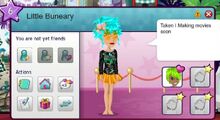 She has currently hacked one user, scriffy skynn, who is the backup of aurachu.
Relationships with other hackers
Delphium: She is in love with Delphium and has been before MS Delphium is considered to be Buneary's partner in crime but this is not yet officially announced.P.
Trivia[Notes]
She was posted about on the forums by aurachu on a forum called "Packer on the loose".
She is also believed to be a fake backup of aurachu, although this is not confirmed
Ad blocker interference detected!
Wikia is a free-to-use site that makes money from advertising. We have a modified experience for viewers using ad blockers

Wikia is not accessible if you've made further modifications. Remove the custom ad blocker rule(s) and the page will load as expected.