What is Monster cafe?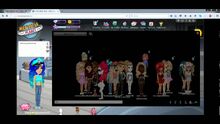 Monster cafe is almost the same as Horror cafe, it has the 2nd most hacker sightings in a chatroom, behind Horror cafe of course. Hackers that are commonly found here include very popular ones such as TheCult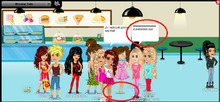 and The Dolly. This one is around more then Horror Cafe and when Horror cafe disappears people usually go to Monster cafe for hacker hunting. Moderators have been seen at this cafe quit a lot, when a moderator is at a chatroom it means an incident has recently took place, such as a user being hacked or even deleted. Monster cafe is also known to sometimes disappear, like Horror cafe.
Notes
Monster cafe is where The Dolly seems to be spotted the most.
Monster cafe has lots in common with Horror cafe.
Randomly disappears and reappears, like Horror café.
Ad blocker interference detected!
Wikia is a free-to-use site that makes money from advertising. We have a modified experience for viewers using ad blockers

Wikia is not accessible if you've made further modifications. Remove the custom ad blocker rule(s) and the page will load as expected.