Mr Voodoo is a new Hacker on Moviestarplanet.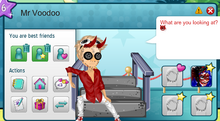 He wears big red horns and googles on top of his head. He has a stitched face and Button eyes. He wears a red top, white jeans and blood stained sneakers.
He is only on The Canadian server for now and it shows he is best friends with Kensai.
We don't know much information about him yet.
Ad blocker interference detected!
Wikia is a free-to-use site that makes money from advertising. We have a modified experience for viewers using ad blockers

Wikia is not accessible if you've made further modifications. Remove the custom ad blocker rule(s) and the page will load as expected.