Who is Nexterf?
Nexterf WAS a hacker on MovieStarPlanet (CA and USA.) They started hacking in late July of 2016. They were one of the two founders of Team Two-Faced along with Kensai. On September ninth, 2017, they announced via Twitter that they were quitting Nexterf for a new hacker account called 'waiiting.' They now do everything on that account instead of Nexterf.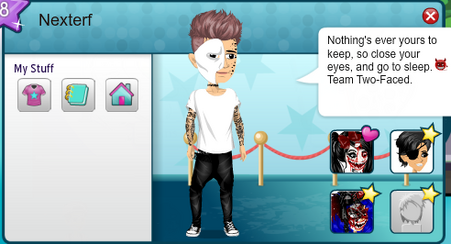 Known Victims
DabGurl (CA)
whenidivein (CA)
Big B1rd (CA)
Status
Nexterf's status was from a song called Lullaby by Tom Waits, the full paragraph is:
"Sun is red; moon is cracked. Daddy's never coming back. Nothing's ever yours to keep. Close your eyes, go to sleep. If I die before you wake. Don't you cry don't you weep. Nothing's ever as it seems. Climb the ladder to your dreams. If I die before you wake. Don't you cry; don't you weep Nothing's ever yours to keep. Close your eyes; go to sleep."
Appearance
Their first appearance was long-ish, white hair, bandages over his face, a white long-sleeved shirt under a open, gray, bubble vest, gray pants, a foot without a shoe and a broken foot with a cast. They soon changed their appearance. They gave them self shorter, more formal hair, (that was still white) wore a light gray, short-sleeved shirt, black arm tattoos, gray pants rolled up just above the ankles, and no shoes. After that, they changed them self into their most recent appearance. They gave them self a more tan, human skin tone, their hair was a dark pink-ish tone and was put up, on half of their face he wears a white mask, (resembling Team Two-Faced) on the other side are a few black dots near the edge of their face, they wears a black choker, a white short-sleeved shirt, black, baggy pants, black and white shoes, and has black tattoos on their arms.
What They Do When They Hack You
They usually camp out in the Skate Chatrooms or Cafes. When you are hacked by NeXterf, they will change your status to, "This is my turf now. (d) - N e X t E r F," they will change your expression to the sad expression, they will change your animation to the starter scared animation, if you are a YouTuber, your computer will restart, and all of your recording and editing software from your computer will be uninstalled (they will not erase your project files). They will also delete your account on some occasions. They will not hack you for no reason or on request.

Relationship with Other Hackers
TheLadyDoctor (formerly) - Old partners. They started hacking together until TheLadyDoctor got a new partner and Nexterf started Team Two-Faced. It's said Nexterf deleted TheLadyDoctor's partner's account before TheLadyDoctor quit.
Kensai - It is unknown how they met. Kensai is one of Nexterf's best friends on the Canadian and USA servers. They are both founders of Team Two-Faced.
MyHour - They met on the chat system on this wiki. They are lovers on the Canadian server and best friends on the USA server.
Phreak/Phreaky - It is unknown how they met. They are best friends on the Canadian server.
Hurting Smile - It is unknown how or if they met. The only affiliation they have is that they are both apart of Team Two-Faced.
TooMuchSkin (formerly) - It is rumored that they met on the chat system. They were a founder of Team Two-Faced along with Nexterf and Kensai.
Trudget - It is unknown how they met. They used to be apart of the same team until Kensai and Nexterf exposed her.
Big B1rd - They mildly dislike each other. They have hacked each other's accounts before.

MJ01
Nexterf has tweeted a picture of two white circles with four letters/numbers on the side with the caption 'Soon.' Some people think it's MJ0L or MJ0I, although in a conversation with Nexterf, they confirm that it is MJ01. In the corner of the picture is a very small gray text. Someone was able to zoom in and figure out that it said 'Always watching.' No one knows what this means.
Wiki Life
When he's inactive on MSP, he'll most likely still be active in the wiki. Him and Team Two-Faced (most times just him and Kensai) like to expose fake hackers on their pages with evidence.
Trivia
They have a Twitter account.
You can just call them Jackson, Jack, or Jackie, though none are their real name.
Their birthday is November 9th.
Their originally had a huge hacking project called the 'Exter Project' planned out until they temporarily quit, came back, and scrapped the idea.
They have a Wattpad account.
They have a YouTube that they upload on, link is here.
They consider them self a non-binary pansexual.
They have a wiki account and are active on this wiki.
Their favorite colors are blue and gray.
They enjoy Twenty One Pilots, Panic! At The Disco, Melanie Martinez, Halsey, Lorde, Starset, and Three Days Grace.
YouTubers they watch include Emma Blackery, Shane Dawson, several MEP studios, and some cosplay channels.
They like anime. Some of their favorites are Assassination Classroom, Attack On Titan, Chuunibyou Demo Koi ga Shitai, and Toradora.
Ad blocker interference detected!
Wikia is a free-to-use site that makes money from advertising. We have a modified experience for viewers using ad blockers

Wikia is not accessible if you've made further modifications. Remove the custom ad blocker rule(s) and the page will load as expected.