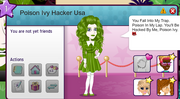 Admin Note: Please provide proof for this article otherwise it may be deleted in the future. Thank you for understanding.
Who Is Poison Ivy Hacker?
Poison Ivy Hacker is a hacker on MovieStarPlanet (Canada, UK, and USA). Poison Ivy is a hacker first sighted on Canada MSP however has been spotted hacking multiple users on UK too. Poison Ivy was at some point, the most popular hacker on Canada, during 2013. When hacked by her, she will write a poem in your status.
Appearance
Green (old) curly starter hair, pale skin, green lips, green dress, green and white (old) starter shoes