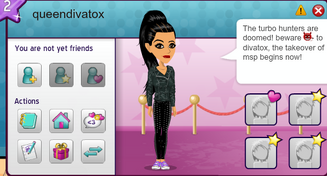 Queendivatox
is a hacker on MovieStarPlanet (CA and UK).
.
Trivia
Despite their new appearance, they are a very powerful hacker. They were on Canada MSP, until they got banned and are now on UK.
They are dating Lord Zedd.
Like many hackers, they would often give hacker hunters the opportunity to warn their victims, before they hack them.
They are also very greedy and will do anything they can to get gifts and autos when they hack their victims.
They are named after a power ranger villain.
They may know Lord Zedd in real life.
Ad blocker interference detected!
Wikia is a free-to-use site that makes money from advertising. We have a modified experience for viewers using ad blockers

Wikia is not accessible if you've made further modifications. Remove the custom ad blocker rule(s) and the page will load as expected.