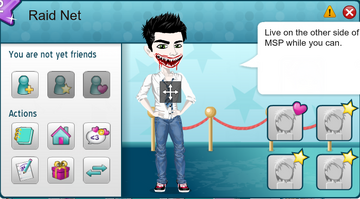 Raid Net
is a hacker on MovieStarPlanet (USA and UK).
He is a new, and considerably dangerous hacker, who can within minutes gather an entire team from scratch, and proves, quite clearly, to be one not to mess with.                                                                                                                                  
What he can do:
Raid Net is extremly dangerous as he can get your IP address, hack into your webcam and hack your MSP account. There are many more things he can do, like, create viruses, hack the forums... etc...
Theories/Rumors
Victims
Warm Blood (USA)
omg130421 (USA)
Black Knight 777 (USA)
BocaBubblez (USA)
/ RareHare / (UK)
Pumpchkin (USA)
Holly Nova
Pixi Star
Zac Sky
piinksparkles0818 (USA)
J!NXED (USA)
Your Living Nightmare (USA)
Blackdaddyboss/Tayman30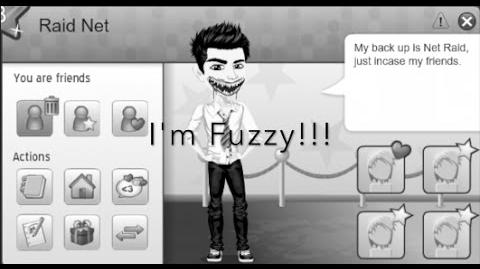 Ad blocker interference detected!
Wikia is a free-to-use site that makes money from advertising. We have a modified experience for viewers using ad blockers

Wikia is not accessible if you've made further modifications. Remove the custom ad blocker rule(s) and the page will load as expected.