Raspberrymocha is a hacker hunter on UK, and she is level 24.
She has discovered lots of hackers, but half of them are fake
She is a chat moderator on this wikia. Her username on the wikia is Raspberrymocha.
She is good with hackers. she knows how to stay clear of them and if they message her she stays calm. 
She has been hacked by her best friend. They switched accounts, and got into a fight and she forgot to change her password. Her best friend recycled all her clothes while she was on vacation. Her main look (Below) was also sadly removed in the hacking.
Still tryin to beat Undyne.
She is doctor who.
She LOVES anime and doctor who
Shes bisexual.
She loves Doctor who more then her own life.
Tamaki is hot.
She wants to marry the 10th doctor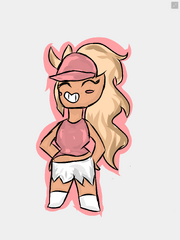 Ad blocker interference detected!
Wikia is a free-to-use site that makes money from advertising. We have a modified experience for viewers using ad blockers

Wikia is not accessible if you've made further modifications. Remove the custom ad blocker rule(s) and the page will load as expected.