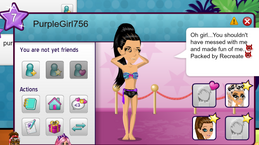 Recreate is a hacker on MovieStarPlanet. (UK)
She usually messages people back if you message her, but be warned, you will be hacked if you call her a fake or tease her. Please be careful!
So far, her victims are: -PurpleGirl756, Lilly///,
She hasn't hacked many people yet, but is on her way. She is said to steal some of her victims clothes, and sometimes change your password or lock your user out forever if you try to make fun of her.
PurpleGirl756 is on the UK, and now has her account back, but Reacreate is threatening that if PurpleGirl teases her or jokes about her again, there will be consequences.
Ad blocker interference detected!
Wikia is a free-to-use site that makes money from advertising. We have a modified experience for viewers using ad blockers

Wikia is not accessible if you've made further modifications. Remove the custom ad blocker rule(s) and the page will load as expected.