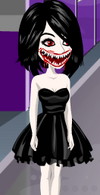 Sc@ry
is an alleged hacker on MovieStarPlanet (CA and UK). She has a partner named Die today. Her status is "Being sc@ry is what I do, particularly to...you! (d)"
She supposedly started hacking in early September, in 2016.
What Does Sc@ry Look Like?
Sc@ry has the short black default hair in black, red eyes, a bloody smile, finishing off with a black dress and no shoes.
Who Does Sc@ry Do To Her Victims?
Like their partner, Sc@ry mostly hacks level 6 and up users. She also gifts herself when she hacks you. Then deletes it ALL.
Die Today
Die Today is NOT Die Today UK, they have default, short, over the eye hair. And The Dolly mask, And a similar dress to Sc@ry. Die, can hack computers as well. And proceeds to delete your items.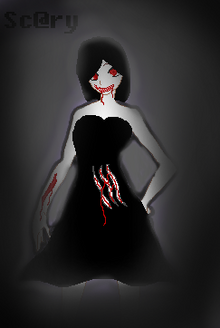 Theories
She friends people.
She doesn't hack by request.
Victims
There may be many victims, but the only known one is Lunria.
A Log Of A Victim's Experience
Conversation via messages of Lunria and Sc@ry:
Sc: Me & Die, love your hair (d), Why not make it my own?
Lu: Uh? Cool?
Sc: Oh dear. You should be happy. You were bound to Die Today. (D)
Lu: Your Sc@ry. Wha?
Sc: She's here... Just mouse over the lil' delete user button
Lu: You can do that?
Sc: Course.
Is she fake?
Yes.