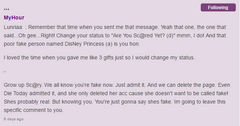 Did you ever believe that Sc@ry is real? Well she isn't, and we have the proof.
Have fun being E X P O S E D by Team Two-Faced.
I myself. Lunria, had also taken part in this. The 2 pictures here ----> were taken by MyHour. Which I had given her full access to Sc@rys account. I had known her pass, but now. I told MyHour my pass. And she didn't even hack me! Then once she finished the screenshots and etc;, I changed her password. This truly shows how trustworthy, how funny, and how brutal a hacker can be! This was really fun to do! *WARNING* Never tell a hacker your password. It's not smart. You could lose your accounts forever.

Again. Hi it's Luna as a year of telling her to get off someplace else. I found out something. Sc@ry is someone I know. And so is Die Today. Of course I will not be leaking something. Because Sc@ry needs a chance to re-evaluate. And for people to leave her alone. But I just came to stop by and tell you. She is a human being I know. Which adds up to how she knew my password. And gave me gifts. What a fake friend.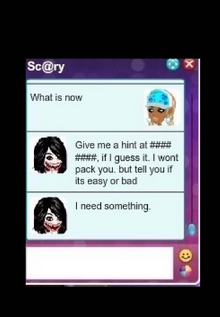 Ha Ha Ha Ha Ha Ha Ha Ha Ha Ha Ha Ha Ha Ha Ha Ha Ha Ha Ha Ha Ha Ha Ha Ha Ha Ha Ha Ha Ha Ha Ha Ha Ha Ha Ha Ha Ha Ha Ha Ha Ha Ha Ha Ha Ha Ha Ha Ha Ha Ha Ha Ha Ha Ha Ha Ha Ha Ha Ha Ha Ha Ha Ha Ha Ha Ha Ha Ha Ha Ha Ha Ha Ha Ha Ha Ha Ha Ha Ha Ha Ha Ha Ha Ha Ha Ha Ha Ha Ha Ha Ha Ha Ha Ha Ha Ha Ha Ha Ha Ha Ha Ha Ha Ha Ha Ha Ha Ha Ha Ha Ha Ha Ha Ha Ha Ha Ha Ha Ha Ha Ha Ha Ha Ha Ha Ha Ha Ha Ha Ha Ha Ha Ha Ha Ha Ha Ha Ha Ha Ha Ha Ha Ha Ha Ha Ha Ha Ha Ha Ha Ha Ha Ha Ha Ha Ha Ha Ha Ha Ha Ha Ha Ha Ha Ha Ha Ha Ha Ha Ha Ha Ha Ha Ha Ha Ha Ha Ha Ha Ha Ha Ha Ha Ha Ha Ha Ha Ha Ha Ha Ha Ha Ha Ha Ha Ha Ha Ha Ha Ha Ha Ha Ha Ha Ha Ha Ha Ha Ha Ha Ha Ha Ha Ha Ha Ha Ha Ha Ha Ha Ha Ha Ha Ha Ha Ha Ha Ha Ha Ha Ha Ha Ha Ha Ha Ha Ha Ha Ha Ha Ha Ha Ha Ha Ha Ha Ha Ha Ha Ha Ha Ha Ha Ha Ha Ha Ha Ha Ha Ha Ha Ha Ha Ha Ha Ha Ha Ha Ha Ha Ha Ha Ha Ha Ha Ha Ha Ha Ha Ha Ha Ha Ha Ha Ha Ha Ha Ha Ha Ha Ha Ha Ha Ha Ha Ha Ha Ha Ha Ha Ha Ha Ha Ha Ha Ha Ha Ha Ha Ha Ha Ha Ha Ha Ha Ha Ha Ha Ha Ha Ha Ha Ha Ha Ha Ha Ha Ha Ha Ha Ha Ha Ha Ha Ha Ha Ha Ha Ha Ha Ha Ha Ha Ha Ha Ha Ha Ha Ha Ha Ha Ha Ha Ha Ha Ha Ha Ha Ha Ha Ha Ha Ha Ha Ha Ha Ha Ha Ha Ha Ha Ha Ha Ha Ha Ha Ha Ha Ha Ha Ha Ha Ha Ha Ha Ha Ha Ha Ha Ha Ha Ha Ha Ha Ha Ha Ha Ha Ha Ha Ha Ha Ha Ha Ha Ha Ha Ha Ha Ha Ha Ha Ha Ha Ha Ha Ha Ha Ha Ha Ha Ha Ha Ha Ha Ha Ha Ha Ha Ha Ha Ha Ha Ha Ha Ha Ha Ha Ha Ha Ha Ha Ha Ha Ha Ha Ha Ha Ha Ha Ha Ha Ha Ha Ha Ha Ha Ha Ha Ha Ha Ha Ha Ha Ha Ha Ha Ha Ha Ha Ha Ha Ha Ha Ha Ha Ha Ha Ha Ha Ha Ha Ha Ha Ha Ha Ha Ha Ha Ha Ha Ha Ha Ha Ha Ha Ha Ha Ha Ha Ha Ha Ha Ha Ha Ha Ha Ha Ha Ha Ha Ha Ha Ha Ha Ha Ha Ha Ha Ha Ha Ha Ha Ha Ha Ha Ha Ha Ha Ha Ha Ha Ha Ha Ha Ha Ha Ha Ha Ha Ha Ha Ha Ha Ha Ha Ha Ha Ha Ha Ha Ha Ha Ha Ha Ha Ha Ha Ha Ha Ha Ha Ha Ha Ha Ha Ha Ha Ha Ha Ha Ha Ha Ha Ha Ha Ha Ha Ha Ha Ha Ha Ha Ha Ha Ha Ha Ha Ha Ha Ha Ha Ha Ha Ha Ha Ha Ha Ha Ha