Tayman30 is the leader of South side Hitters and a member of The Black Knights. He is the most hated hunter to the hacker Lord Zedd. His name on the wiki is KingRuck.
Encounters With Lord Zedd
Tay first encountered Zedd in horror cafe in November 2014, and questioned his presence. This agitated Zedd to the point where he hacked Tayman30, but did not change his password.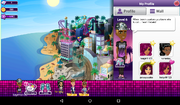 Tayman then reported him and got him locked out for 2 days, this is the main reason Zedd wants to "destroy him".
Teams:
Black Knights
Colored Hacker Hunters
South side Hitters
Plague Hacker Hunters
Trivia
He plays percussion in the marching band
He is a JROTC Leader
His birthday is June 26 which makes him a cancer
He is 15 years old
He likes Wwe, Lucha Underground, and UFC
He's a track runner
He's a similar personality to Spiderman
He likes rap music
His favorite rappers are Travis Porter, Dae Dae, Designer, Fetty Wap, 21 Savage, Don Trip, Gucci Mane, and Bankroll Fresh
Relationships with other hackers:
Raid Net: I have mixed feelings for Raid because he can give good advice at times when you ask him, and he came up with the mission Underworld plan which I think is awesome. Finally, he is using Lord Zedd, and will ultimately destroy him. However, I dislike the fact that he hacked me and J!nxed in a group chat. Also, because sometimes he has a rivalry with J!nxed (my best friend on UK). Finally, because he uses manipulation to get what he wants (such as forcing 777 and Gator to give him use to their accounts after threatening to release their IP's. Other than that, Raid is cool. 😈
The Dolly: I have came in contact with multiple Dolly's, probably not THE DOLLY, but Dolly's who can hack. Some of them message me weird things such as Let's Go To My Room Baby (d). In conclusion, I'm creeped out by her 😨
Skincreeper: Skincreeper to me is just an annoyance, but she must be taken seriously as I have seen her hack before. She says she hacks because she was bullied, but she still very annoying as she constantly says SKIN in group chats. 😶
Natule: I first heard about Natule after she hacked my friends in The Gorgeous Gang, my friend GrimmyGrimGrim told me everything she knows about her, and I made a page about her. I even messaged her myself, and she said she could see through my screen, and that she knows my identity. I replied, but I have gotten NO RESPONSE WHATSOEVER!!! 😬 LORRRRRRRRRDDDDDDDDDDDDDDDDDDDD ZEeEEEEEEEEEEEEEEEEEEDDD