About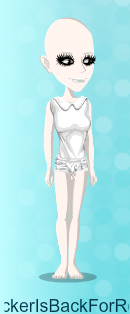 TheHackerIsBackForRevenge
is a hacker on Moviestarplanet (USA).
TheHackerIsBackForRevenge joined in March 2016. The hacker isn't known and is uncommon, and rarely hacks. Their status is: "Ring around the rosey pockets full of posies ashes ashes we all get packed (d)". There might be a chance that they might go on other servers, eg USA, UK, or Canada, or even German.
Victims
There are not many victims that are known, however the only one that is known is StylishMountain.
What happens if I get hacked?
They will recycle your furniture so watch out! When they do this, they only take very few items at a time.
Ad blocker interference detected!
Wikia is a free-to-use site that makes money from advertising. We have a modified experience for viewers using ad blockers

Wikia is not accessible if you've made further modifications. Remove the custom ad blocker rule(s) and the page will load as expected.