Who Was The Clown?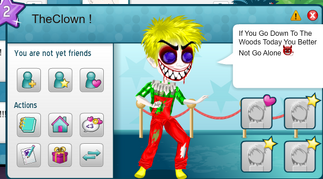 The Clown
was a hacker on MovieStarPlanet (CA). They were well known for being
The Dolly
's best friend on her original account. They were known to be The Dolly's other account. Their status read: "If You Go Down To The Woods Today You Better Not Go Alone (d)". They were not completely unheard of, however, and is expected to have hacked shortly after the arrival of The Dolly (after Anonymous' Little Test Forum), the end of 2012.
Theories
They are the dolly.
They are good friends with the Dolly.
They know The Dolly in real life.
Apparently their new account on UK is Thecløwn
Ad blocker interference detected!
Wikia is a free-to-use site that makes money from advertising. We have a modified experience for viewers using ad blockers

Wikia is not accessible if you've made further modifications. Remove the custom ad blocker rule(s) and the page will load as expected.