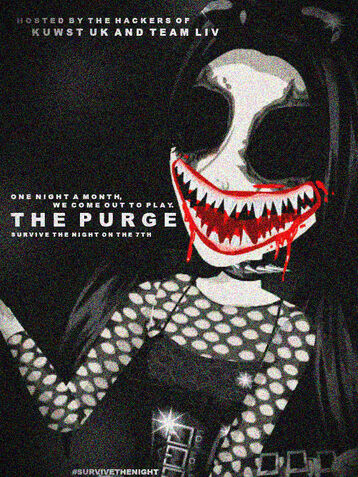 The History Of The Purge
The Purge, a time each month when hackers and defenders from each server come together to destroy those who deem vulnerable.
This is a very special 7th day of each month due to the overwhelming fear within the users. The event was initially created in place of viruses. It is a time for hackers and defenders to take out their rage on users.
The Purge was initially introduced by Xaylah on the UK server and has now spread across the UK defender and hacker community. Hackers and defenders such as, 1337EliteHaxor, CodedExe and Twisted h0e, have each joined in on the act so far and will hopefully be participating this month.
The event will take place each month on the 7th and will be referred to as "The Purge" or "The Cleansing".
FAQ
Ask questions via comments.
Ad blocker interference detected!
Wikia is a free-to-use site that makes money from advertising. We have a modified experience for viewers using ad blockers

Wikia is not accessible if you've made further modifications. Remove the custom ad blocker rule(s) and the page will load as expected.