Who Is Twisted Bride?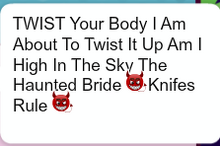 Twisted Bride is a hacker on MovieStarPlanet (UK).
Not very much is known about Twisted Bride, but she was first discovered in early August 2016. She is apparently making a "hacking team" and she is best friends with some higher levels. No one really knows much about her, but you can find her sometimes in Horror Cafe.
Ad blocker interference detected!
Wikia is a free-to-use site that makes money from advertising. We have a modified experience for viewers using ad blockers

Wikia is not accessible if you've made further modifications. Remove the custom ad blocker rule(s) and the page will load as expected.