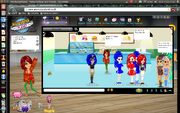 I HAVE A PEN
I HAVE AN APPLE
UHHH!
PEN APPLE! <3
EDIT: OH 
NEVERMIND THIS ISN'T FUN ANYMORE 
EDIT II: YOU BLOODY SATANISTS QUIT MURDERING MY HACKER HUNTER ACCOUNTS I'VE HAD ABOUT ENOUGH OF YOU AND YOUR RELIGION I BETTER BRING SOME HOLY WATER TO THE HORROR CAFE NEXT TIME YOU WHIPPERSNAPPERS BETTER SHOVE AWAY OFF
Ad blocker interference detected!
Wikia is a free-to-use site that makes money from advertising. We have a modified experience for viewers using ad blockers

Wikia is not accessible if you've made further modifications. Remove the custom ad blocker rule(s) and the page will load as expected.