So umm, on my UK main... On 22nd May 2016, I went on the horror Cafe.... I found lots of 'hackers'. Yesterday I found a deleted user as well o.o But someone help me, are they hackers or all just fake? I'm not sure about the girl that got hacked my miss filly or the grim hackers, but the broken doll???? Is that a possible new hacker?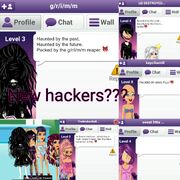 Ad blocker interference detected!
Wikia is a free-to-use site that makes money from advertising. We have a modified experience for viewers using ad blockers

Wikia is not accessible if you've made further modifications. Remove the custom ad blocker rule(s) and the page will load as expected.